The 2022 festival will be live and in person on Saturday October 8, 2022 from noon to 8 pm.  We'll be at a new location: El Cerrito Community Center at 7007 Moeser Lane in El Cerrito.  
This year the Festival offers a stage of music performances, a workshop space, and a room for children's activities. Join us to listen, learn, play and enjoy live music in our community. This exciting event features performances and workshops from world-renowned and local musicians alike, and will include space in the garden for an unplugged open mic.
Check the 2022 program page for this year's schedule of performers and workshops.
You must be vaccinated to attend. Masks are recommended for indoor spaces.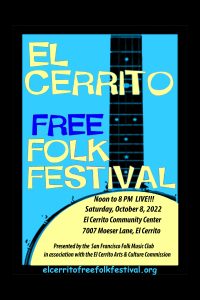 The El Cerrito Free Folk Festival is a day-long arts and music festival that is free of charge and open to the public. The generosity and sponsorship of the San Francisco Folk Music Club and the City of El Cerrito Arts and Culture Commission have made the annual El Cerrito Free Folk Festival possible over the years.
The festival is an event of the San Francisco Folk Music Club, a non-profit organization that was founded in 1948 and is still going strong. Membership is open to everyone and is encouraged for all.
Here are some maps of the El Cerrito Community Center: