The 2020 festival was held online on Saturday October 10 from 12 noon until 7 pm.  Many of the recorded events are still available for viewing here!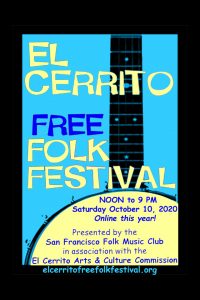 The El Cerrito Free Folk Festival is a day-long arts and music festival that is free of charge and open to the public. The generosity and sponsorship of the San Francisco Folk Music Club and the City of El Cerrito Arts and Culture Commission have made the annual El Cerrito Free Folk Festival possible over the years.
The Festival offers two stages of music performances, workshops, and a family program. Join us to listen, learn, play and enjoy live music in our community. This exciting event features performances and workshops from world-renowned and local musicians alike, and will include a virtual open mic.
The festival is an event of the San Francisco Folk Music Club, a non-profit organization that was founded in 1948 and is still going strong. Membership is open to everyone and is encouraged for all.