BLIND LEMON PLEDGE – ACOUSTIC MUSIC FOR THE SOUL
On festival day, watch and hear Blind Lemon Pledge at
https://m.youtube.com/playlist?list=PL1g13A62mPJTdazg945H7YHzkTDnQskR3
in a special performance for our 2020 online festival!
James Byfield.
blindlemon@sbcglobal.net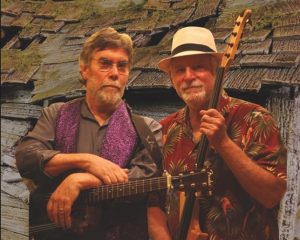 A steaming bowl of Delta and Chicago blues, a dash of New Orleans, a hint of country, and a teaspoon of rock, all flavored with a unique songwriting sensibility, create the tasty gumbo that is the music of Blind Lemon Pledge, the Bay Area's premier acoustic blues band. This San Francisco based duo plays a unique combination of blues classics and Americana, re-imagined rock/pop standards and critically acclaimed originals. Although usually a quintet, Blind Lemon Pledge has stripped down to the essential duo of guitar and bass for this ECFFF performance. Riding on the crest of their internationally acclaimed #1 album "Goin. Home", eponymous band leader Blind Lemon Pledge brings you skillfully crafted songs in a wide variety of Blues/Americana based styles.