Hali Hammer & Friends
Hi All,
I wasn't able to get our video on the site in one piece the day of the festival, but if you' like to see the entire performance, here's the new link:
On festival day, watch and hear Hali Hammer and Friends
in a special performance for our 2020 online festival!
Part 1 – Days of My Life, Clean Up the Planet, Listen to the Birds
http://www.youtube.com/watch?v=LZOFb0XGApM
Part 2 – When This Is Over, Zoom Golly Golly, Everybody Croaks, Make a Better World
http://www.youtube.com/watch?v=K5IvkB1d0HM
Part 3 – Voting USA, Reunion, Ripple
http://www.youtube.com/watch?v=p70xuWgPNZc
Part 4 – We Will Rise Together
https://www.youtube.com/watch?v=Ui4NcIdZxiQ
halih@yahoo.com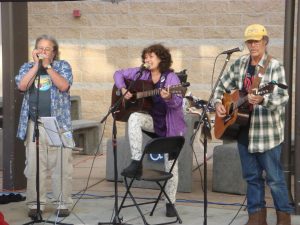 Hali Hammer is an award winning singer-songwriter and social activist who has sung and played for peace and political causes for over four decades. She is a founding member of Occupella, plays bass and sings with Jump-In (which performs ""folk & oldies – don't say it too fast) performs with The ReSisters, sang for many years with Freedom Song Network and can be found on many You Tube videos.
Hali's original songs range from those about love and family to commentary about what's going on in the world. In the darkest of times, her optimism shines through. Her latest CD, Eclectic Circus, shows Hali's versatility. A new one is in the works.
She is accompanied by Randy Berge on lead guitar and Paul Herzoff on harmonica who will also be playing some of their original  songs.
Check her website, www.halihammer.com, for videos and information about her newly released CD, "Days of My Life".