On festival day, watch and hear Hophead at
https://www.youtube.com/watch?v=qKQVPiKXGnE&feature=youtu.be
in a special performance for our 2020 online festival!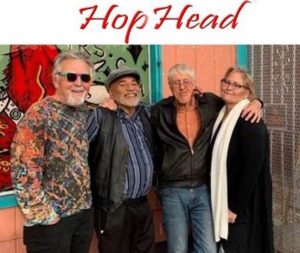 HopHead Plugged is hoping to make your Festival more carefree, fun and full of dancing.
HHP'D is:
Mark Kubick – percussion
Kim Richards – vocals, bass, guitar, banjo
Jim Tepperman – vocals, mandolin, guitar, bass, clarinet
Peter Tracy – vocals, guitar, dobro, harmonica
Originally "Cowpony and the HopHeads" (2010) Hophead has matured over the years (don't get me wrong, we still have a CowPony in our midst – you have to guess who that may be J but it's pretty obvious who the hopheads are). KR and PT were members of the (in)famous Sonoma County  RockHounds and KR and JT met through the SF Folk Music community. Primarily an eclectic cover band we explore many genres of popular music – pop, folk, blues, rock, topical, jazz, jugband and just plain silly. We focus on harmonies.  We pay attention to the words we are singing.  We hope you will too.
In 2017 we added Mark Kubik to the band for our plugged gigs – when we want to rock.  We all love rock and roll and Mark brings his wonderful spirit and groove to the mix.
In addition to his tasty guitar work, Peter is a prolific songwriter. Please check out his many political songs (this is just a small sampling):
Pussy Hat https://www.youtube.com/watch?v=7mdBtvj4l00
Fascist in the Whitehouse https://youtu.be/k7pVZAyMxFc
Hand of the Almighty  https://youtu.be/m01J-mZ5mdE
This is Our Country. https://youtu.be/6L02XC4H4h8
Thanks for listening – we all look forward to the day when we can play in the same room(s) together.  Until then….. we will survive.