Jenny Kerr
On festival day, watch and hear Jenny Kerr at
in a special performance for our 2020 online festival!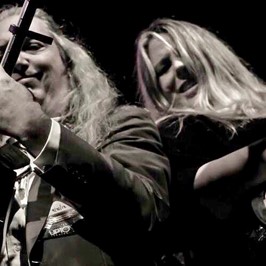 San Francisco native and Oxford dropout, multi-instrumentalist (finger-style and slide guitar, claw hammer banjo, harmonica, piano), as well as a poetic and passionate songwriter, Jenny Kerr is known for foot-stomping live shows and powerful, authentic voice. She delivers a seasoned yet spirited sound with forays into swamp rock, straight-up soul, backwater honky tonk, and old-time blues and finely-hewn ballads.
She has performed  both locally and internationally. The title track from her most recent release, "Head of Fire" was produced by legendary multi-platinum Grammy winner Bill Bottrell (Madonna, Sheryl Crowe, Michael Jackson, Tom Petty).
www.jennykerr.com