On festival day, watch and hear Jill & Kevin at
https://www.youtube.com/watch?v=x0U6-jYymy0
in a special performance for our 2020 online festival!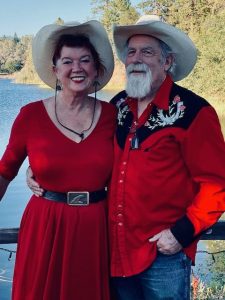 Jill McAnally and Kevin McConnell perform Country, Western Swing, Standards, Blues and more all over the Pacific Northwest, on permanent tour in their travel trailer & loving it!!!
Jill McAnally has been performing on stages from Alaska to Nashville Tennessee since she was 16 years old. She has opened for the Burrito Brothers, been called onstage to sing with Doc Watson and has garnered praises from the likes of Don Everly. From winning the Gong Show to teaming up with her current partner, the amazing blues and swing guitarist Kevin McConnell, (formally of the Retrobates and picking since he was 10), Jill has immersed herself in the world of music. Kevin also has his claims to fame (or infamy) …sharing the stage with everyone from Elvin Bishop to Texas Playboy Johnny Cuviello.

A former rider of wild steers at Billy Bob's in FortWorth, Texas [twice.. that was enough!!!] Jill grew up riding her own horses (and a cow now and then) and has driven her very own 18 wheeler. (I kid you not.) She is perhaps our Bay Area's most authentic female country voice. Performing many of their own tunes as well classic country, swing and blues numbers, these two are sure to stir your heart and amaze.