Hi there,
You are invited to a Zoom meeting.
When: Oct 10, 2020 12:00 PM Pacific Time (US and Canada)
Register in advance for this meeting:
https://us02web.zoom.us/meeting/register/tZIpdOCqqj0qG9db-0bYu1_ZETssB7tQljKw
After registering, you will receive a confirmation email containing information about joining the meeting.
Peter Kasin and Richard Adrianowicz
Chanteys: Work songs of sailors, dock laborers, rowers and fishing net-haulers.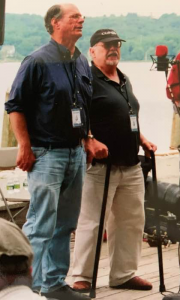 peterkasin@gmail.com
Peter Kasin and Richard Adrianowicz began singing sea chanteys together in 2002, have performed at sea music festivals on the West and East coasts, and have recorded together four CDs of sea music. In addition, Richard has performed solo at the Chicago Maritime Festival, and Peter solo at the Captain Cook Maritimer Music Festival in Yorkshire, England. Previous to their partnership, Richard performed and recorded with the legendary Bay Area trio Out of the Rain. Peter is a member of the San Francisco Scottish Fiddlers, and plays in local Irish music sessions.
Richard and I are proposing co-leading a virtual workshop on chanteys. This is open to and appropriate for all ages, and all are encouraged to lead chanteys, either unaccompanied or with their own instrumental accompaniment. No advance knowledge of sea chanteys necessary, as the choruses to these work songs are repetitive and easy to pick up. We will provide background information to the songs we lead, and all participants are welcome to do the same for songs they would lead.
All are welcome to lead songs and sing along on the choruses.