Yael Schy
You are invited to a Zoom meeting. 
When: Oct 10, 2020 01:00 PM Pacific Time (US and Canada) 
Register in advance for this meeting:
After registering, you will receive a confirmation email containing information about joining the meeting.
(510) 520-8330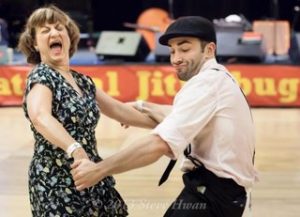 The Shim Sham Shimmy
I will be teaching the "Shim Sham Shimmy," a swing line dance from the 1920's that is still danced at community swing dance events today! 
Yael Schy has been teaching and performing various forms of folk dance and social partner dancing for almost 50 years! She has performed in a variety of American and International folkdance troupes, including Westwind International Folk Ensemble, and Jubilee American Dance Theater, and has been dance teaching for several decades at the SF Free Folk Festival, Lark World Music and Dance Camp and other events.
SHIM SHAM SHIMMY! Come learn this fun, simple line dance from the 1920's that has become the signature dance of swing dancers all over the world. It is often danced at swing dance events and is lots of fun! For all ages and levels of experience!