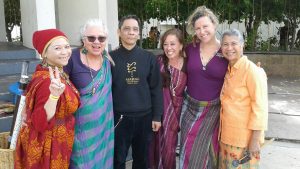 "I am Grounding here, I am Melting here, I am Singing here, I am
Breathing here, I am Thanking here, with this heart, with this heart,
with this heart…" ~ Evelie Delfino Såles Posch and Dreamsinger
"My wonderful friend Evelie is an amazing singer and Reclaiming
teacher, and director of our Spiral Dance chorus. If you can invite
her to your rituals, I think you'll genuinely enjoy each other…" ~ Starhawk
"Your voice is spectacular… and your presence divine. It was a true pleasure to be next to you and let our voices and energies weave.  I look forward to more!" ~ Robert Gass, chantmaster
"You are indeed a Great Mother in spirit and to all your many students that you pass on your beautiful music and spirit. Thanks so much…" ~ Barbara Framm, Temple Dancer and Choreographer
"You're my favorite chorus director." ~ James L Bianchi, Esq.
Evelie Delfino Såles Posch is a sacred song singer/writer; recording artist; drummer; dancer; Tibetan and Kundalini yogini; Pranic healer, Certified Sound Therapist; choral director; storyteller; actress; music educator; independent scholar; and magical activist whose talents have flourished for over fifty years, spanning the traditions of her ancestors and the progressive edge of ceremony and world music.
In college Evelie sang with the University of the Philippines Concert Chorus, the first ever to go abroad, and sang at college and university campuses, libraries, the Mormon Tabernacle, St Peter and Paul Cathedral in New York and culminated the two-month tour with performances at the Lincoln Center in New York and the Kennedy Center in Washington, D.C.
She performs with and directs Mahal, a kosmik-ethnik-ekstatik-trance-tribal fusion muzik ensemble; Kismat-Mahal Kirtan Ensemble which leads antiphonal world chanting and other devotional music; Merry Minstrels holiday music, and Zingara Brasilian jazz.
She has played with Ya Elah; for Jennifer Berezan's "Praises for the World"; at the Goldman Environmental Prize Ceremony; at UUCB's Sunday Services & Multicultural Harvest Fests; at the Asian Art Museum; for Burning Man; Carnaval Zona Verde; The BIG One Eco-fest; Harmony Fest, Himalayan Fair; Nihonmachi Street Fair; Michael Franti's Power to the Peaceful; the SF Library; People's Park Festivals, and has directed the Spiral Dance Chorus and Band for Reclaiming's annual Samhain celebration.
She has co-led and sung at Techno Cosmic Masses; has sung for the mayors of San Francisco, and Oakland of 18 years ago; has played at festivals, fairs, handfasting/weddings, and other rites of passage. She brings music and sound healing to assisted living, elder care and retirement homes, rehab centers and even women's prisons.
On May 29th of last year, Evelie gathered 15 drummers for the opening parade at Eve Ensler's last show of her Vagina Monologues at Herbst Theatre, SF.
Whether leading sacred ceremonies, healing, prayerforming, or teaching, Evelie is passionately involved in bringing all Beings to a timeless world of music and art as ancient as it is fresh today.
Evelie is joined by Mahal EthnoFusion Music Myth & Magic members: Claudine Tong, Doug Chambers, Jedi Såles, Kathy Riehle, Nancy Domald & Sophie Soltani.
Evelie dedicates her music ministry to her mother, +Divinia, her first teacher of singing, healing and life!
{http://groups.google.com/group/heartistic-music for classes and events announcements}
***Friend her on Facebook: http://www.facebook.com/evelie.posch