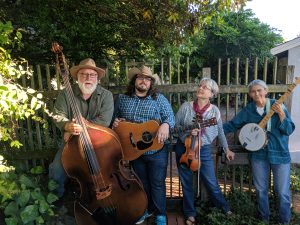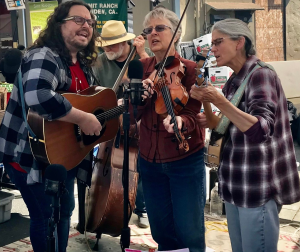 Well, it's true, we did. Some of us met at a Thursday night jam class in Berkeley, California. Our enthusiasm drew us to play with each other, so we decided to start a band. We sometimes have guests along, but the core of the band is:
Mary Cranley, voice, fiddle, and mandolin
It's not that young Mary C — also called Short-haired Mary — didn't like learning classical violin, it just never grabbed ahold too tightly. Life went on, and Mary learned to play some guitar, strum a tamboura, and bellow a harmonium. One fateful night she attended a show by the Infamous Stringdusters and that bluegrass fiddle sound grabbed ahold and didn't let go. She turned her violin into a fiddle, and now plays and sings bluegrass and old-time music to her heart's content.
Mary Schriner, voice, banjo, and harmonica
When Mary S's sister cleaned out their mom's house, she sent Mary the unstrummed, resonator-back banjo their mom had given to her decades before. As banjo started infiltrating her life, the old-time mountain sound possessed her to switch to an open-back model, luring her down the path of clawhammer style ever since. While living in Chicago, long-haired Mary fell in love with blues harmonica and is now known to lean into blue notes and bend air into bluegrass and old-time songs.
Ryan Harlin, voice, guitar
Ryan's childhood was a series of well-meaning attempts to play old-time music, from the time in the 3rd grade when he lugged his cello to a fiddler's convention, to his brief tenure as a Philadelphia Mummer because they played banjos. Ultimately he found his way and became a multi-instrumentalist (guitar, banjo, mandolin, voice), music producer, and songwriter. Ryan is the newest member to Mostly Marys and brings a welcomed third voice to the harmonies along with some of his own favorite songs to perform.
Scott Underwood, bass and other, secret things
At a young age, Scott took over his sister's student acoustic guitar, then as a teen got his first cheap electric guitar and amp from her boyfriend. In his early twenties he discovered electric bass and backed a variety of rock, pop, country, and singer-songwriter artists. A few years back, he finally got an upright bass, through which he discovered a new set of great musicians playing country blues, old-time, and bluegrass tunes.
Mostly Marys website: https://www.mostlymarys.com/